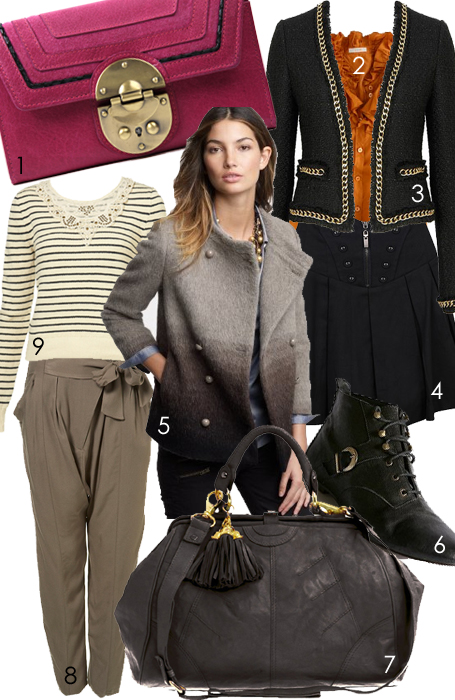 There's just something about French women - they're put together, sexy, and completely cool. Their brand of effortless style - that je ne sais quoi - is a mix of sharp silhouettes, subtle detailing, and killer accessories. But how do you get Parisian cool girl chic right? The key is to pair quality pieces with interesting details. Nothing that screams "look at me," but pieces that grow more fascinating on closer inspection. Case in point? These leather booties, which feature an eye-catching set of hardware. Or this double breasted mohair coat, highlighted with a deeply gorgeous ombre coloring.
1. Lock Leather and Suede Purse | $42.49 at ASOS
2. Kelsey Ruffle Top | $69.50 (sale) at J Crew
3. Chain Trim Boucle Blazer | $34.80 at Forever 21
4. Military Button Front Skirt | $19.80 at Forever 21
5. Ombre Horizon Coat | $595 at J Crew
6. Jeffrey Campbell Class Bootie | $168 at Urban Outfitters
7. Leather Tassle Frame Bag | $110.48 at ASOS
8. Tie Side Harem Trouser | $65 at Topshop
9. Knitted Stripe Lace Jumper | $70 at Topshop

How would you wear Parisian cool girl chic? Share your style with us in the comments!
-Trisha Okubo
9 comments January 7th, 2010