January 8th, 2010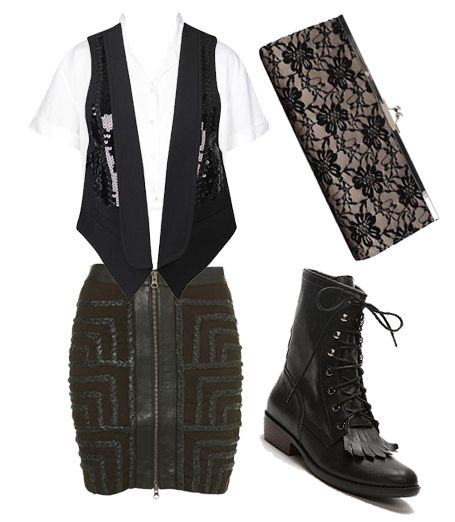 Pictured: Cropped Tie Waist Shirt | $44 at Topshop, Plait Leather Pencil Skirt | $160 at Topshop, Circle Ring Sequin Vest | $19.80 at Forever 21, Lace Snap Clutch | $15.80 at Forever 21, We Who See Fringe Boot | $78 at Urban Outfitters.
As befits the season, we're wearing a lot of black these days. But to keep black from being basic, we're dressing it up with texture. Mixing textures - shine with matte, rough with smooth - allows us to add visual interest to an outfit, while still maintaining a nearly monochromatic look. FWIW, monochromatic dressing helps add visual height - great news for all of us who would like to add a few inches without towering heels. Here's how to combine three distinctive textures for a look that's simply chic:
1. Start with a plain white button down and a textured pencil skirt. Note the mix of smooth (shirt) and rough (braided leather on the skirt) with this foundation combination.
2. Add a bit of shine to the look with a sequinned vest - a wonderful foil to the matte foundations of the outfit.
3. Finish off the look with black accessories, as befits the near monochromatic outfit. The lace on the clutch handbag adds a new dimension of texture, while the fringe detail on the lace-up military-style boots adds the final cherry on top.
Unless you're staying inside, you'll want to finish off this outfit with a good warm coat. You can try the big over small look with a hip-length puffer - or go classic with a wool (or wool-cashmere blend) topcoat. Either way, keep the silhouette simple.

How would you mix and match textures? Share your style with us in the comments!
This look is part of Omiru's Winter 2009 Lookbook series, which builds upon our 10-Piece Winter 2009 Wardrobe Expansion Pack.

Entry Filed under: Ready Made Outfits,Women