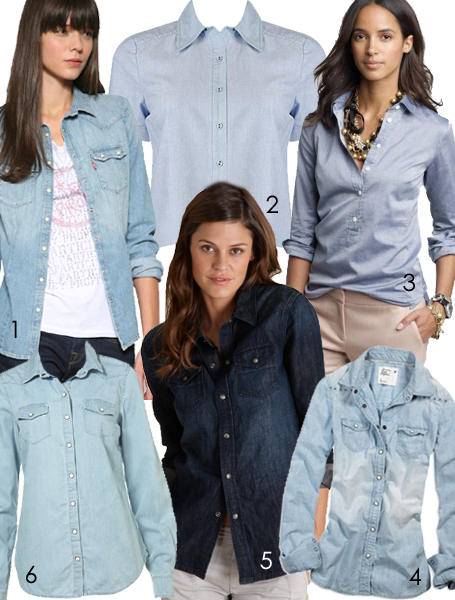 When the world around us feels more uncertain, fashion tends to turn back towards the classics. Wardrobe staples and fashion foundations suddenly feel fresh again. And in this shaky economic climate, one of the most proletarian garments, the chambray shirt, is re-emerging as a fashion statement. But how do you wear a chambray shirt? Fitted chambray shirts look fresh paired with trousers and khakis. We also love the look of oversized chambray shirts paired with leggings and boots. Best thing about this look? Come spring, belt your oversized chambray shirt, and you'll have the world's simplest shirtdress. Here's six chambray shirts worth a look:
1. Levis Chambray Western Shirt | $118.98 at ASOS
2. Cecelia Chambray Shirt | $17.80 at Forever 21
3. Chambray Popover Shirt | $78 at J Crew
4. AE Chambray Western Shirt | $44.50 at American Eagle
5. Vintage Chambray Western Shirt | $79.50 at Martin + Osa
6. Bleached Denim Shirt | $60 at Topshop

How would you wear a chambray shirt? Share your style with us in the comments!

9 comments February 2nd, 2010