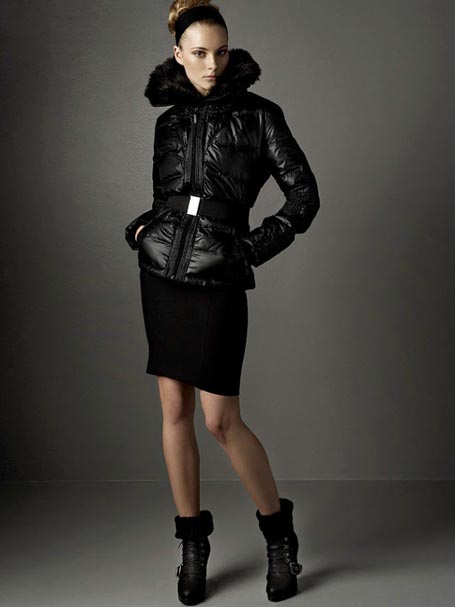 Photo Credit: Zara Lookbook
When it's chilly out, it's natural to reach for your warm, cozy puffer jacket. Only thing is, the puffer jacket, as its name suggests, often makes you look puffy. The voluminous coat may not be a natural in the figure flattery department, but it doesn't have to make you look big, as the stylish women in Paris and London have deftly demonstrated. Here's six tips for staying slim in a puffer jacket:
(1) Belt your Puffer Jacket.
One of the reasons why puffer jackets can be so unflattering is that they give you no waist definition. Bring back your curves under the puffer by creating that waist definition with a belt. Either choose a puffer with a self belt, or DIY with your own belt in a similar color. I personally love the look of a black elastic belt with a simple front closure (mine's from Uniqlo, but you can get these at all of the fast fashion retailers) with a sleek black puffer, as pictured.
(2) Wear a Fitted Puffer Jacket.
If you decide to go beltless, you can still get a trim look with a fitted puffer. My Zara puffer, for instance, cinches on the sides so you can get a streamlined look sans belt.
(3) Choose a Puffer Jacket that's Short and Slim.
If you wear a puffer jacket that's short (i.e. above hip-length), you don't have to worry as much about defining your waistline. Just choose a jacket with a somewhat slim silhouette, and you'll be good to go.
(4) Wear your Puffer Jacket with a Slim Silhouette.
What to wear with a puffer jacket? The key is slim fitting garments to create a streamlined look. Leggings, skinny jeans, pencil skirts - these are all good choices for pairing with your puffer.
(5) Wear Heels with Your Puffer Jacket.
A good rule of thumb for dressing yourself - the more volume you're wearing, the taller you need to look to pull it off. So if you're wearing a puffy jacket, wear shoes with heels. You don't have to wear stiletto high heels, but a couple of extra inches of height will do your look good.
(6) Wear a Black Puffer Jacket.
The first rule in the fashion book is that black is slimming, which is probably why so many fashionistas tend to wear their puffer jackets noir. We're all for advocating the breaking of fashion rules, if done deliberately and with care, but we don't see a good reason to mess with this rule. For the longest and leanest look, you're best served with basic black.
How would you stay slim in a puffer jacket? Share your style with us in the comments!
3 comments February 5th, 2010