February 19th, 2010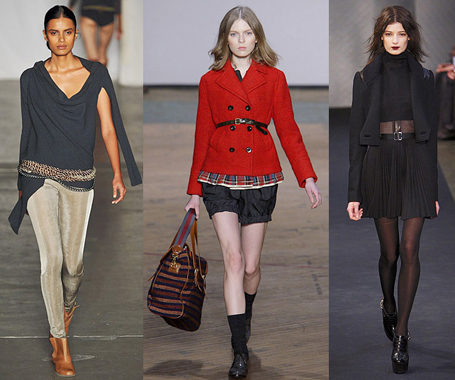 Photo Credit:
NYMag.com
Belts at VPL, Marc by Marc Jacobs, and Proenza Schouler.

Style tip? The beauty of belts are how they can help create a silhouette. For those of you with defined waists, the belt can reinforce your hourglass silhouette. And for those of you with a more boyish, up-and-down shape, the belt can create the illusion of a defined waist. Wear your belt slung low, as at VPL, or up high (and even over your coat!) as at Marc by Marc Jacobs. Or use a belt to create visual interest in an otherwise monochromatic outfit, as at Proenza Schouler.

What do you think? How would you wear a belt? Share your thoughts in the comments!
Entry Filed under: Runway Reviews,Runway Reviews,Trend,Trend Predictives,Trendscape,Trendscape,What's In and What's Out,Women