February 26th, 2010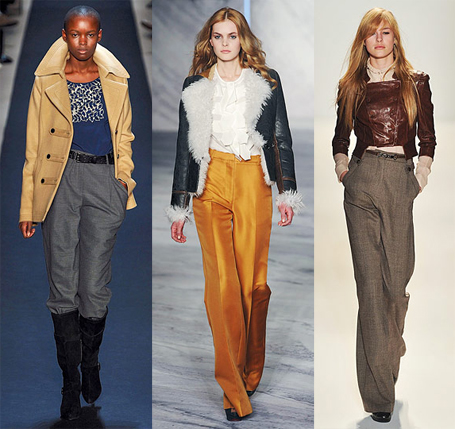 Photo Credit:
NYMag.com
Highwaisted Pants at Charlotte Ronson, Philip Lim 3.1, and Cynthia Steffe.

Style tip? Calling all longwaisted women - we have good news for Fall 2010! The highwaisted pant is still in style. Rock your highwaisted pants with a something fitted and cropped up top, as at Cynthia Rowley. Or go bold with a dramatic coat and an oversized collar, as at Charlotte Ronson. Or if you dare, try a bold colored highwaisted pant, like the bright orange number at Philip Lim. Bonus tip for highwaisted pant figure flattery? Accentuate your raised waistline with a belt to visually create some extra curves.

What do you think? How would you wear highwaisted pants? Share your thoughts in the comments!
Entry Filed under: Runway Reviews,Runway Reviews,Trend,Trend Predictives,Trendscape,Trendscape,What's In and What's Out,Women