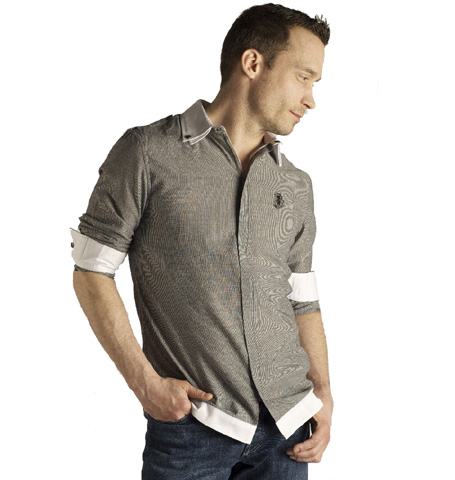 Loft604 Lightweight Pure Cotton Double Collar Zip Up Shirt
We've always been a fan of high quality menswear here at Omiru, and we have a new menswear brand to watch: Willie Fung and Patricia Poon's Loft604. The Toronto based brand combines butter-soft sustainable fabrics (their bamboo knit is simply divine) with classic-with-a-twist designs. We caught up with Willie and Patricia about how they founded Loft604, their design inspirations, and what's on deck for Fall 2010.
Describe Loft604, Twitter style.
Toronto based, Loft604 is a menswear brand focusing on sustainable fabrics and sophisticated, urban designs.
When was Loft604 founded?
Loft 604 was founded in June 2009, by me (Willie Fung) and my wife Patricia Poon.

What's the story behind the launch?
For the past 5 years, while I had worked for a sportswear/loungewear company, Patricia and I had a vision to create the next big thing in men's fashion. We'd felt that there is a need for a brand with luxurious fabrics and sophisticated details. But really, comfort is the key to our brand. It's important to touch and feel our collection by hand to experience the 100% cashmere that feels like butter. This is Canadian craftsmanship: quality over quantity!
Complete the following sentences:
Spring 2010 fashion is about…
Silk cotton shirts that are lightweight - super soft and cool for the summer. Colours are also a strong theme this season.
Fall 2010 fashion is about…
Heavy cashmere knits are the thing to wear this Fall.
Where can Omiru readers buy Loft604?
Omiru readers can purchase Loft604 from many retail boutiques located in the cities of Toronto, Vancouver, Chicago, Los Angeles, and New York.
Fun Fact about Loft604?
We love to travel around the world for inspiration from arts and culture. We capture interesting artifacts, landmarks, and historic attractions with our cameras. We also collect a lot of antique cameras and look for interesting items that can be reused.

Last words?
We've used the Twin Lens Camera as our logo because it is a classic. We love photography, and we collect a lot of interesting cameras, films, and accessories. Oh, and the name Loft604 is actually where we live and work - all in one place!
Add comment March 9th, 2010