March 16th, 2010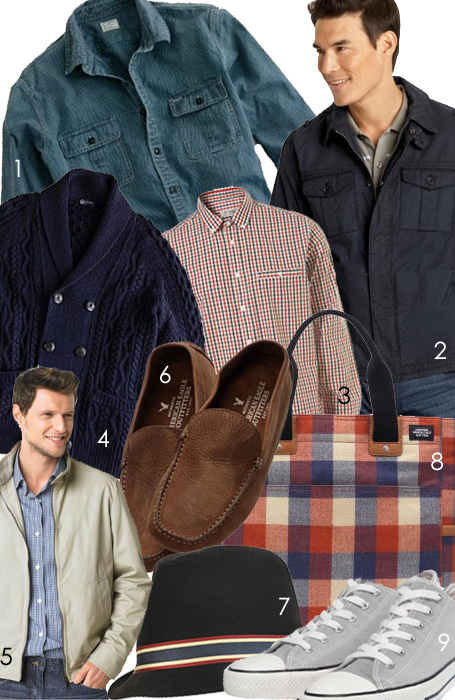 Days are getting longer (thanks, Daylight Savings Time), the air is getting warmer, and we're eagerly anticipating Spring. While the weather may not be Spring-tastic in all areas of the country yet, it's definitely time to start - or continue - your Spring wardrobe update. What do we recommend that you add to your Spring 2010 wardrobe? Patterned shirts, a denim utility shirt, a light cotton jacket, pieces with military influence, and because the weather can still be chilly, a cable knit sweater jacket. But don't forget your accessories - update with a pair of old school grey sneakers, driving mocs, a canvas weekend tote, and a dandy-inspired fedora.
1. Nailhead Oxford Utility Shirt | $98 at J Crew
2. Cotton Utility Jacket | $130 at Banana Republic
3. White and Red Check Shirt | $50 at Topman
4. Cotton Cable Harpoon Sweater Jacket | $198 at J Crew
5. Casual Bomber Jacket | $98.50 at Banana Republic
6. AE Leather Driving Moc | $49.50 at American Eagle
7. Packable Striped Fedora | $13.90 at Heritage 1981
8. Wool Check D.R. Tote | $147.50 (sale) at Jack Spade
9. AE Old School Sneaker | $24.95 (sale) at American Eagle
Guys, what will you be wearing this March? Share your style with us in the comments!

Entry Filed under: Men,Shopping Guide,Trend,Trend Predictives,Trendscape,What's In and What's Out