March 24th, 2010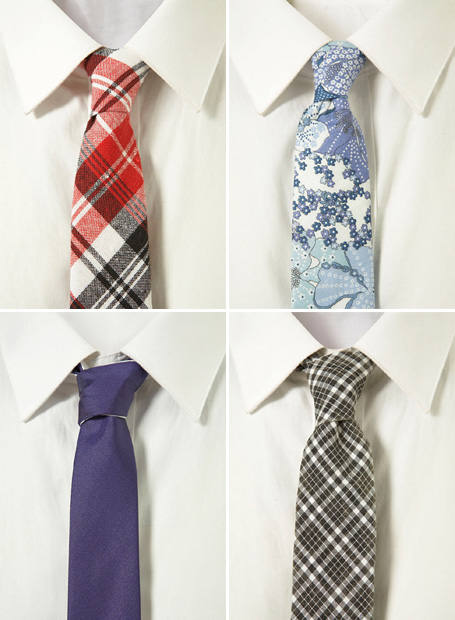 Pictured, clockwise from top left: White and Red Slim Tartan Tie | $20 at Topman, Blue Liberty Print Slim Tie | $32 at Topman, Black Acid Wash Check Slim Tie | $20 at Topman, Purple Reversible Slim Tie | $20 at Topman. See Topman's entire collection of ties here.
The foundation of a tie wardrobe is composed of solids and stripes in neutral colors. You probably already have your striped repp, your narrow black, and your perfect-shade-of-grey. But do you have ties that make a statement? Cross over into statement tie territory with a selection of ties that add a bit of spark to your wardrobe - but not in a crazy kind of way.
How do you wear a statement tie? Three practical tips:
(1) In order to make a statement without going overboard, choose a fun color or an interesting pattern - not both at the same time. Make your statement with a bold color, like the regal purple tie pictured bottom left. Or add visual interest via a special pattern, like the kitschy liberty print pictured top right.
(2) So that your statement tie takes center stage, pair your tie with a blank canvas. The plain white button-down is a clear winner, but depending on the color of your tie, you can also try a solid colored button-down in a complementary color. The liberty print tie, pictured top right, would look lovely against a pale blue button-down shirt.
(3) Keep the rest of your outfit simple - flat front trousers and a pair of brogues will do the trick.

How would you wear a statement tie? Share your style with us in the comments.

Entry Filed under: Men,Trendscape