April 15th, 2010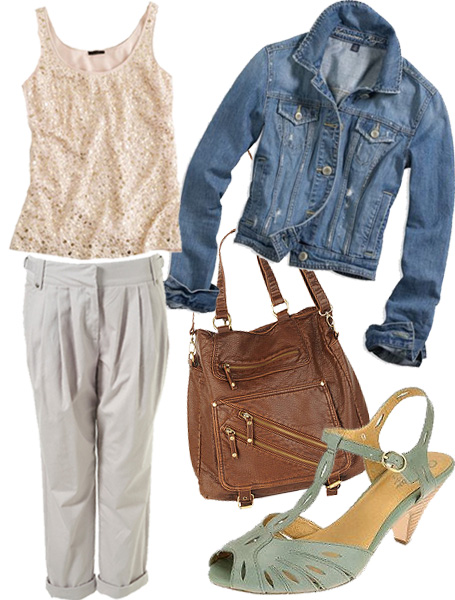 Pictured: Sequined Starland Tank | $138 at J Crew, Pleat Tapered Trousers | $70 at Topshop, AE Classic Denim Jacket | $39.95 (sale) at American Eagle, Worn Large Leatherette Tote | $32.80 at Forever 21, Seychelles Teardrop T-Strap Heel | $88 at Urban Outfitters.
Sequins used to be creatures of the night, but they're increasingly accepted for daytime wear. If you decide to sequin up your daytime look, you have two options: (1) go glam and essentially wear cocktail type attire during the daytime, or (2) mix your sequins into more utilitarian pieces for a sophisticated daytime look. We put together a springy outfit that shows you how to do the latter:
1. Start with a sequinned tank top, and pair it with a pair of casual trousers. We like how the pleats and the slightly rolled cuffs bring these trousers down to earth.
2. Add another touch of utilitywear to this outfit with the jacket of the moment - a close fitting denim jacket.
3. Finish off the look with a set of accessories that mash up feminine and utility - a pair of fetching t-strap heels in aqua and a sturdy holdall bag.

How would you wear sequins during the day? Share your style with us in the comments!
Entry Filed under: Ready Made Outfits,Women