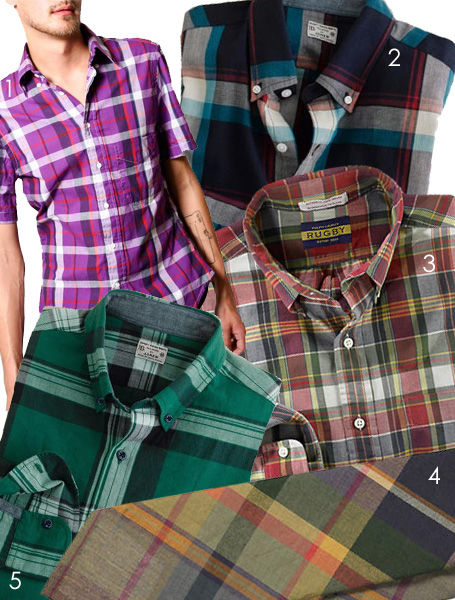 Perfectly lightweight and effortlessly chic, cotton madras fabrics feel quintessentially summery, as befits their Indian roots. (The name "madras" comes from the old British name for Chennai, the Indian city that popularized the fabric.) In shirts, shorts - and even jackets and pants, madras fabrics are found in plaid-type patterns - some crisply plaid, with others featuring colors that softly bleed into one another.
Style tip? Because madras fabrics are so breathable and lightweight, they're the perfect summer fabric - and as such, should be worn only when temperatures permit. Stock up now, and break your madras out once the temperature hits the mid-70s.
With fashion's obsession with all things prep, they haven't felt quite this fresh since the 1980s. Since madras fabrics never really go out of style, we'd recommend picking up a few pieces now for seasons to come. Here's five madras pieces worth a look (#2 and #5 courtesy of Gary):
1. Gitman Vintage Purple Madras Shirt | $156 at Oak
2. Plantation Madras Plaid Shirt | $69.50 at J Crew
3. Thompson Madras Plaid Shirt | $79.50 at Rugby
4. Narrow Indian Madras Gold Tie | $85 at Polo Ralph Lauren
5. Button Down Shirt in Hillside Madras | $69.50 at J Crew
How will you wear madras? Share your style with us in the comments!

5 comments April 20th, 2010