May 18th, 2010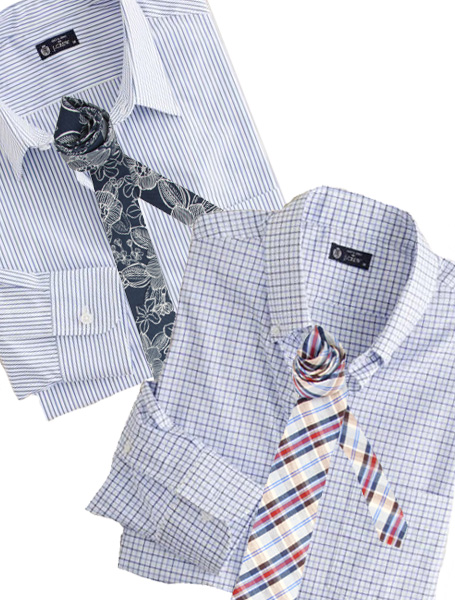 Pictured: Point-collar Dress Shirt in Baltic Stripe | $55 at J Crew with Floral Tie | $11.84 at ASOS, Button Down Dress Shirt in Shadow Tattersall | $69.50 at J Crew with Hackett Madras Tie | $93 at ASOS.
The dress shirt and tie is one of the most foundation combinations for men, but it doesn't have to be boring. Sure, you can mix your solid colored ties with solid colored dress shirts - or even your striped tie with the colored dress shirt - but you needn't limit yourself to a single print or pattern. We love the look of mixing and matching patterns with shirts and ties, especially now that mixing and matching different prints in the same outfit is no longer reserved for the fashion forward.
But when you're mixing and matching different prints, how do you make sure they work together? The key is to tie the prints together with a motif - be it size, pattern, and/or color.
Size: If you have two different prints, they'll work together if the scale of the print is similar. Two small prints will complement one another, as will two oversized prints.
Pattern: If you have two patterns of the same style, such as two plaids, you'll do best by mixing up the scale of the print. A small plaid with a large one, for example, will create visual interest. Otherwise, the look can come out feeling too matchy-matchy.
Color: Sometimes all you need is a shared color to make two wildly different prints work together. Color can work its magic to synchronize even multiple prints in an outfit; it's the motif of choice to leverage when you're combining three or more patterns in a single look.
How will you match your dress shirt and tie? Share your style with us in the comments!