May 21st, 2010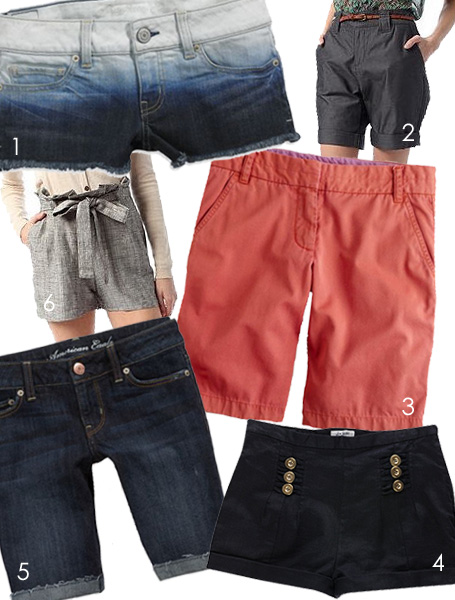 Pictured: (1) Dip Dye Shorties | $39.50 at American Eagle, (2) Cadrian Short | $48 at Urban Outfitters, (3) 9" Chino Short | $42 at J Crew, (4) Matelot Linen Shorts | $18.90 at Forever 21, (5) Skinny Denim Bermuda Shorts | $39.50 at American Eagle, (6) Urban Renewal Linen Paper Bag Short | $48 at Urban Outfitters.
Picking out a flattering pair of summer shorts can be frustrating, but it doesn't have to be. We have the information you need in order to find a pair of shorts that works with your personal architecture. Presenting Omiru's guide to picking the most flattering pair of shorts for your figure:
Petite
For petite figures, a shorter style of shorts is most flattering. Short styles that hit at mid-thigh or at just above the knee tend to work well, especially in slimmer cuts. Avoid clamdigger styles, which visually cut your legs, making you look shorter.
Tall
If you're blessed with height and a slim figure, you can rock short shorts to show off your long legs. You can also manage to wear shorts with cargo pockets and other embellishments, should you choose. Another chic option is the knee-length short - which looks dashing with a tee and blazer. While shorter women would need to top off this look with heels, you can get away with gladiator sandals.
Boyish
If you have a boyish figure, you can create the illusion of a waist with a short with a gathered waistline. Shorts featuring dawstring waists work, as do shorts with belts. Alternatively, you can opt for low-rise shorts that hit closer to your hip than your natural waist.
Tummy
If you have a bit of a tummy, look for shorts with a clean finish across the middle. Flat front styles with no fancy closures or ornamention will work the best. Skip styles with gathers and pleats.
Bottom Heavy
To best flatter a pear shaped figure, you'll want to look for shorts in lightweight fabrics for better drape. To complement wide hips, choose a short with a wider hem to balance out your silhouette, and steer clear of shorts that are too tight in fit. Further counterbalance your bottom half with a loosely fitting top.
Entry Filed under: Figure Flattery Guide,Women