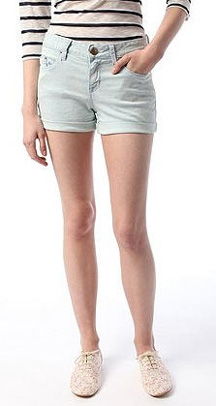 We asked: Would you wear Short Shorts?
You said: No to Short Shorts, with a 65% to 35% vote.

Style tip? While shorts are a summer staple, short shorts tend to cause a bit more controversy than your garden variety short. Proponents of the short short cite its ability to visually lengthen your leg, while opponents point out the difficulty in wearing short shorts if you have less-than-perfect legs. We'd recommend a slim cut short short for younger women who are tall and slender. If you're more petite, however, you can still wear short shorts, extending the illusion of longer legs with a heeled shoe. Summer's wedge espadrilles look especially fresh with short shorts.

Next question: Conversational Prints, featuring motifs like plants, animals, and other ephemera, do just that - start a conversation. But they can be too much, especially in large doses. What do you think? Tell us, would you wear conversational prints? Cast your vote on the sidebar!
Pictured: BDG 5 Pocket Short Shorts | $39 at Urban Outfitters.

6 comments May 16th, 2010