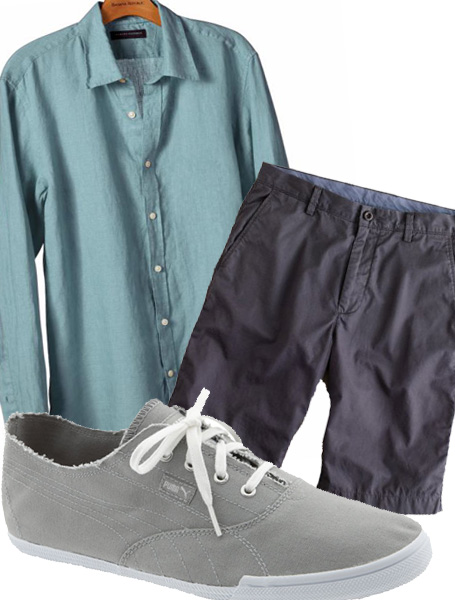 Pictured: Slim Fit Linen Solid Shirt | $59.50 at Banana Republic, Lightweight Chino Club Short in Dark Graphite | $39.99 at J Crew, and Puma Tekkies Brites Sneaker | $39.95 at Nordstrom.
It's true that women have much more liberty in choosing colors than do men. But this doesn't mean that guys need to fill their closets with chromophobic neutrals and basic blues. Ready to wear color? Here's five things men should know about wearing color when they're building out their wardrobe:
(1) Use color to draw attention to your best features. Color attracts attention, so direct that focus in a strategic way. If you want to draw attention to your face, for example, wear a colorful shirt and/or tie.
(2) Stick with solids when you're playing with loud colors. A bright color and a busy pattern may be too loud together, unless you're feeling especially daring.
(3) Find a signature color. You don't have to outfit yourself in a whole rainbow of shades, if you don't want to. You can up your style by simply adding a signature color to your wardrobe. What color to pick? It's up to you. But for inspiration, we recommend looking to traditionally color-savvy brands like Paul Smith.
(4) Colors feature both warm and cool shades. Try on lots of color to see whether the warmer or cooler shades fit you better. Additionally, don't discount a color just because a certain shade doesn't suit you. Spring green may not work on your skin tone, for example, but hunter green might just do the trick.
(5) Summer's the perfect time to wear color. A wider variety of colorful clothes are at your shopping fingertips, which makes it easy to experiment with colors to see what works. Plus, the warm weather just feels right for something bright.

How will you wear color? Share your style with us in the comments!

2 comments June 8th, 2010