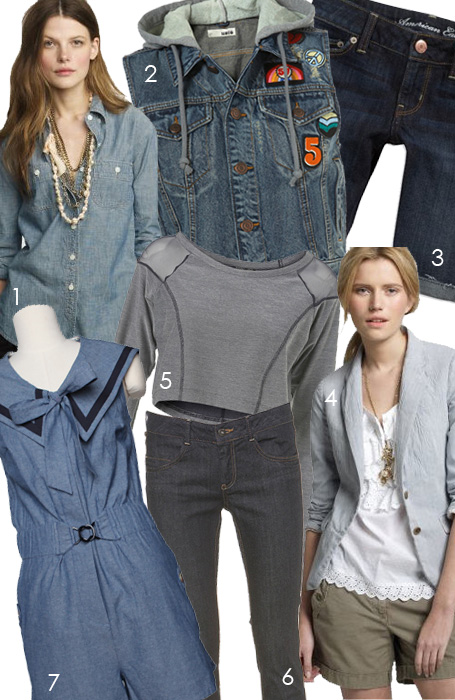 With fashion's love affair with vintage Americana, denim on denim never looked so good. Wearing denim on denim may sound like a poor idea, or at least one that's difficult to pull off in style, but it's surprisingly wearable. So how do you wear denim on denim without loking like you're wearing a "canadian suit"? The key is to provide visual interest by varying something about your denim pieces. Here's three ways to keep things interesting when wearing denim on denim:
(1) Vary the types of garments. Denim doesn't just come in the form of jeans and jackets. Try a denim vest, skirt, hat, or blouse.
(2) Vary the weight and drape of the fabrics. A drapey chambray on denim jeans look fresh, especially finished off with a chocolatey brown belt for contrast.

(3) Vary the wash of the fabric. Try Try a lighter wash paired with a medium wash, for example, or a medium wash with a dark wash. The best execution I've seen of a denim jacket on jeans contrasted a light/medium jacket with deep, dark denim jeans.
Here's seven denim pieces worth a look:
1. Selvedge Chambray Shirt | $78 at J Crew
2. Badge Denim Sleeveless Gilet | $80 at Topshop

3. Skinny Denim Bermuda Shorts | $39.50 at American Eagle
4. Chambray Schoolboy Blazer | $99.99 at J Crew
5. Denim Mesh Shoulder Sweat | $44 at Topshop
6. Indigo Skinny Baxter Jeans | $80 at Topshop
7. Sailing Romper by Dear Creatures | $118 at Ruche
How will you wear denim on denim? Share your style with us in the comments!

1 comment June 11th, 2010