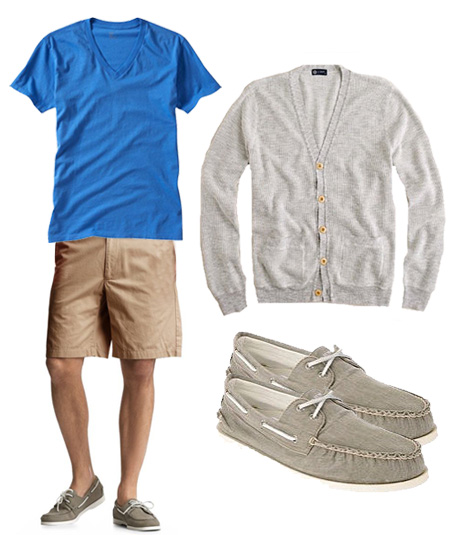 Pictured: Original Shorts | $36.50 at Gap, The Deep V-Neck Tee | $16.50 at Gap, Heathered Waffle Cardigan | $79.50 at J Crew, and Sperry Grey Washed Canvas Boat Shoe | $75 at Urban Outfitters.
When it's warm out, your smart choice is to wear shorts. But you don't have to sacrifice style to wear your casual shorts. The key to looking smart in your shorts is twofold: (1) Choose flat front, slim fit shorts in lieu of baggier, cargo-style versions. (2) Add at least one item with great detailing - such as a tailored shirt or an elegant slim fit cardigan. Here's how to look smart in your summer shorts:
1. Start with a pair of plain, flat front shorts. We chose a nice neutral color to juxtapose against a colorful shirt.
2. Add a v-neck tee to the shorts, taking note that the v of the shirt will expose a tad more chest than a crewneck. That the bright blue of the shirt pairs beautifully with the sand colored shorts is an added bonus.
3. When it gets cool out (or when you're headed into an environment with heavy AC), toss on a lightweight cardigan, slim fit so it doesn't read "grandpa."
4. Finish off the look with a pair of boat shoes, sans socks.
How would you wear summer shorts? Share your style with us in the comments!
Add comment June 29th, 2010