July 1st, 2010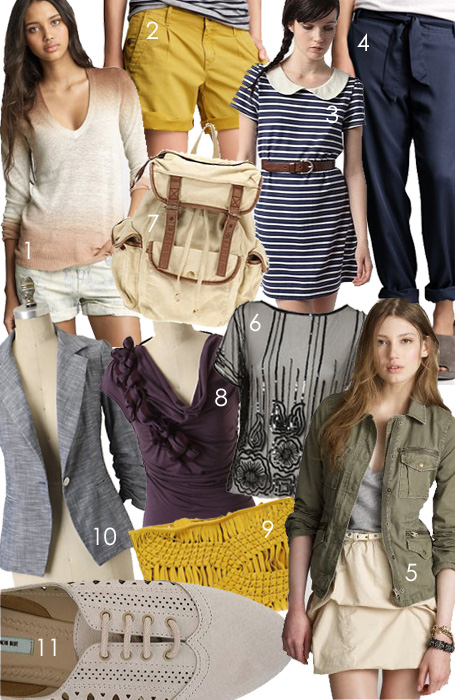 What do you need to update your closet this month? Day dresses and colorful shorts, slouchy roll up pants and fantastic embellished tops, colorful clutches and decorative oxfords. To keep warm at the office when the AC is on at full blast, a chambray blazer with ruched sleeves. And to top off a casual outfit, while counterbalancing feminine embellishments - a military inspired field jacket. Here's Omiru's top picks for July 2010:
1. Linen Dip-Dye V-Neck Pullover | $78 at J Crew
2. Pleated Roll Up Shorts | $49.50 at Gap
3. Pins and Needles Peter Pan Striped Tunic | $38 at Urban Outfitters
4. Slouchy Belted Pants | $49.50 at Gap
5. Solid Ripstop Field Jacket | $98 at J Crew
6. Rose Sequin Embellished Top | $90 at Topshop

7. Ecote Classic Canvas Backpack | $68 at Urban Outfitters
8. Craft & Creation Top | $58 at Anthropologie
9. Premium Leather Macrame Knotted Oversized Clutch | $118.36 at ASOS
10. Whip Smart Blazer | $98 at Anthropologie
11. Kimchi Blue Teardrop Oxford | $48 at Urban Outfitters

What will you be wearing this month? Share your style with us in the comments!

Entry Filed under: Trend,Trend Predictives,Trendscape,Trendscape,What's In and What's Out,Women