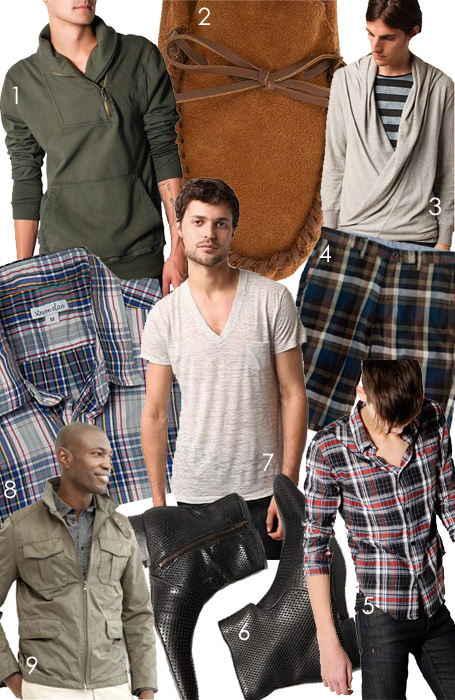 What do you need to add to your closet this month? Summer basics - a slouchy tee with a deep v (perfect for pairing with a blazer and jeans), madras shorts, and plaid shirts. For layering, take a look at draped sweaters and pullovers - and a classic military field jacket. Accessorize with statement shoes - moccasins and textured boots. Here's Omiru's menswear picks for July 2010:
1. Army Varsity Shawl Collar Zip Pullover | $96 at Oak
2. O'Hanlon Mills Moccasin | $28 at Urban Outfitters
3. Feather Wrapped Cardigan | $38 at Urban Outfitters
4. Trinity Madras Club Short | $62.50 at J Crew
5. a.ok Plaid Patch Pocket Slim Shirt | $78 at Oak
6. H by Hudson Marx Ankle Boot | $220 at Urban Outfitters
7. Alternative Apparel Burnout Pocket V-Neck | $24 at Urban Outfitters
8. Pre Fall L/S Reverse Seam | $168 at Steven Alan
9. Four Pocket Field Jacket | $90 (sale) at Banana Republic
What will you be wearing this month? Share your style with us in the comments!

Add comment July 13th, 2010