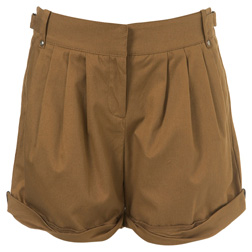 We asked: Would you wear Blousy Shorts?
You said: No to Blousy Shorts, with a 60% to 40% vote.

Style tip? Blousy shorts might not sound like a good idea, but they're surprisingly wearable on women with a slim bottom half. The key to wearing blousy shorts is to balance out the volume on the bottom with a more form fitting top - and finish off the outfit with a belt to reign in the volume. For maximum figure flattery, choose your shorts in color from the darker side of the color spectrum. We've successfully paired an olive pair of blousy shorts with a drapey black tank and a collarless faux leather jacket, finishing off the look with a draped boyfriend belt and a pair of heeled sandals.

Next question: Cutoff shorts remind us of Arrested Development's Tobias Funke, but we're finding them strangely appealing despite the association with Funke's "nevernude." But what do you think? Tell us, would you wear cutoff shorts? Cast your vote on the sidebar!
Pictured: Roll Up Hem Shorts | $60 at Topshop.

3 comments July 18th, 2010