What's the easiest way to give your wardrobe a pick-me-up? Accessories, accessories, accessories. And this summer, the statement necklace is here to inject some drama into the sea of neutrals that's defining fashion this season. How to wear the statement necklace? Juxtaposed against basics - the blank canvas will allow these necklaces to shine. Here's six statement necklaces to spice up your summer neutrals: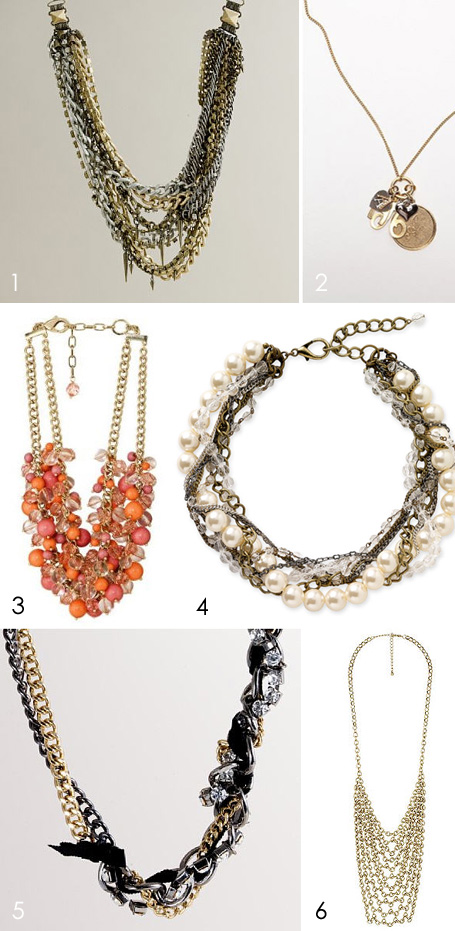 1. Fenton/Fallon for J. Crew Carrington Chain and Needle Necklace | $195 at J Crew
The chain link detailing, combined with the spikes, make this necklace a fantastic counterpoint to a feminine frock.
2. Assorted Initial Pendant | $24 at Urban Outfitters
Personalize your necklace with your initials.
3. Two Strand Beaded Multiplier Necklace | $39.99 at Target
Add a bit of color to a neutral outfit with coral beads and gems.
4. Sequin Twisted Necklace | $118 at Nordstrom
Juxtaposed pearls and chains make for a smouldering textured necklace.
5. Chain and Crystal Twist Necklace | $98 at J Crew
Asymmetric intertwining of steel and gold-plate chain feels so luxe.
6. Antiqued Chainlink Bib Necklace | $6.80 at Forever 21
Pair this chainlink bib necklace with a plain dress for a striking, eyecatching effect.
How would you wear the statement necklace? Share your style with us in the comments!

7 comments July 29th, 2010