August 11th, 2010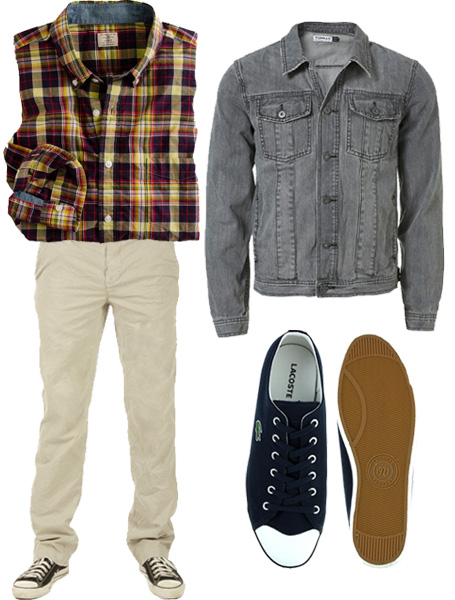 With this season's focus on all things denim, it's a smart investment to pick up a versatile denim jacket to carry you through the rest of summer and into fall. But what do you wear with this denim jacket? Denim on denim, while do-able, can be a tough look to pull off. (The secret to getting this look right, btw, is to vary the texture and the color of the pieces - your jeans and your jean jacket should not look like a suit.) Our favorite denim jacket pairing juxtaposes this rugged piece against a pair of smart looking khaki trouser pants. One part buttoned up, one part rough and tumble, this look is a perfect blend of casual sophistication. Finish off the look with a perfectly plaid shirt and a pair of stylish sneakers.
Here's what you need to get the denim and khaki look:
Grey Denim Western Jacket | $80 at Topman
Secret Wash Button Down Shirt in Everett Tartan | $59.50 at J Crew
Save Khaki Lightweight Trouser | $100 at Ron Herman
Lacoste L27 Cotton Pique Plimsolls | $75.83 at ASOS
How will you wear a denim jacket? Share your style with us in the comments!
Entry Filed under: Men,Ready Made Outfits