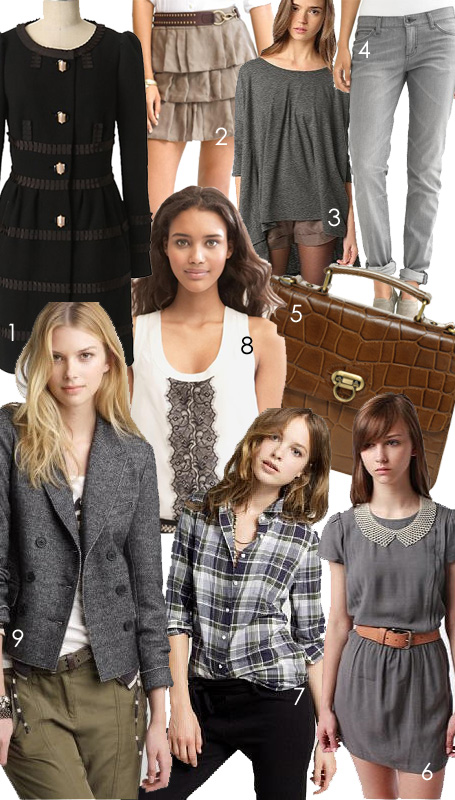 What do you need to update your closet this month? Greys, greys, and more greys - the perfect neutral to start to transition your closet into Fall. We're going for interesting silhouettes and textures, and a decidedly ladylike look. We're digging grey boyfriend skinny jeans, lace embellished tops, marled knits, and Spanish style grosgrain trimmed coats. Here's Omiru's top picks for August 2010:
1. Catalunya Coat | $598 at Anthropologie
2. Layered Ruffle Skirt | $79.50 at Banana Republic
3. Silence & Noise Extreme Cape Back Tee | $48 at Urban Outfitters
4. BR Monogram Grey Slouchy Skinny Jean | $89.50 at Banana Republic
5. Leather Croc Lock Across Body Bag | $84.25 at ASOS
6. Cooperative Sunday School Dress | $58 at Urban Outfitters
7. Herringbone Plaid Boy Shirt | $79.50 at J Crew
8. Silk Lace Front Shell | $69.50 at Banana Republic
9. Marled Knit Thandie Blazer | $158 at J Crew
What will you be wearing this month? Share your style in the comments!

7 comments August 13th, 2010