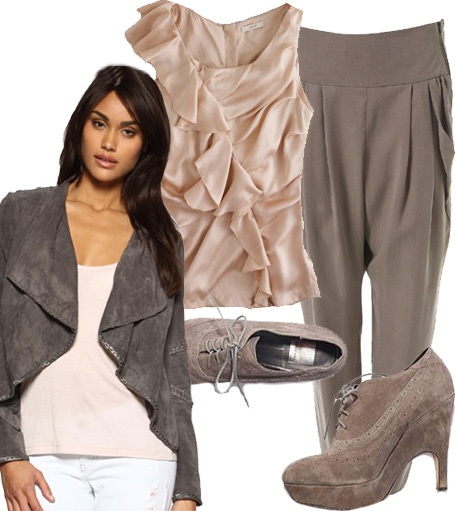 Harem pants have been embraced by the fashion world, but they're a bit of a style challenge to wear. Their exaggerated (and somewhat unflattering) shape make these harem pants a style statement - so you'll want to craft your look around the pants. How do you make the pants the centerpiece of your outfit? We recommend pairing these baggy pants with a fitted top for a small-over-big look. Especially for petite women, heels are also a must with harem pants to give your legs a longer, leaner loook. Finish off the look with a bit of texture - a suede jacket adds both texture and visual interest to the look. Here's how to get the look of harem pants:
Zip Detail Harem Trousers | $80 at Topshop
Gusto Cami | $98 at J Crew
Waterfall Suede Jacket with Chain Detail | $185.35 at ASOS
Dolce Vita Suede Platform Oxford | $178 at Urban Outfitters

How will you wear harem pants? Share your style with us in the comments!
4 comments August 20th, 2010