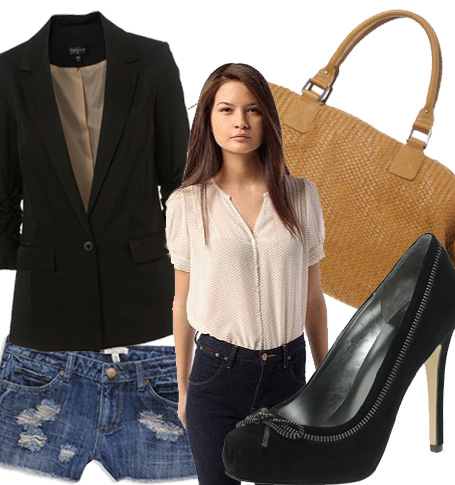 Smart and sophisticated are two adjectives that aren't usually attached to cutoff shorts. But as these denim short shorts have been rising on the trend charts this summer, it's worth getting some extra mileage out of them, beyond wearing them with the usual suspects - a tank or tee and sandals. Simply pair your denim cutoff shorts with sophisticated basics - a loosely fitted blouse and boyfriend blazer. Finish off the look with a pair of pumps (don't you love that zipper detailing?) and a sophisticated handbag. The resulting look puts you at the intersection of polished and playful, and it's perfect layering for summer days.
Denim cutoffs aren't for you? Switch out the cutoff shorts for a pair of distressed boyfriend jeans for a more conservative look.
Here's how to get the look:
Pins and Needles Watercolor Chiffon Blouse | $58 at Urban Outfitters

Distressed Chain Shorts | $18.90 at Forever 21
Ruched Sleeve Blazer | $125 at Topshop
Guess Fedran HH Platform Bow Detail Shoes | $166.82 at ASOS
Premium Leather Weave Holdall | $168.50 at ASOS

How do you wear denim cutoff shorts? Share your style with us in the comments!
1 comment August 27th, 2010