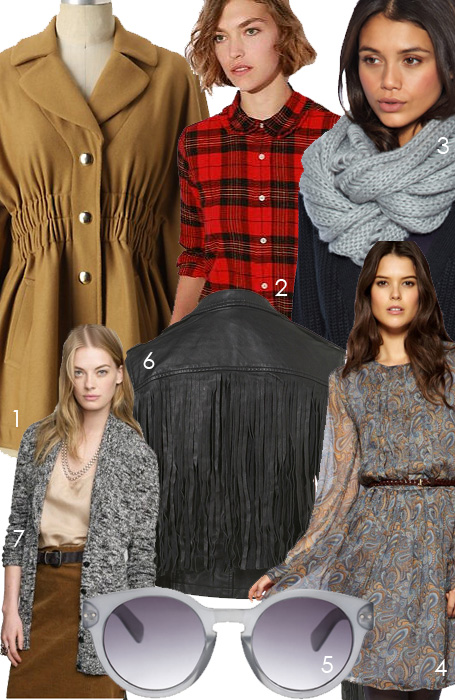 This month (as we're an inch away from October!), we're full on ready for Fall Fashion. We're dreaming of pieces that will take us through the last days of Indian Summer - and will mesh beautifully into our wardrobes as the days turn to Fall. We're eyeing a pretty paisley dress with fluttery sleeves, juxtaposed against a fringed moto jacket (love!). A cozy snood scarf to wear with a feminine take on lumberjack plaids. And a ravishingly ruched camel overcoat to wear over skinny leggings or jeans. Here's what we're wearing at the confluence of September and October:
1. Double Duty Cape | $248 at Anthropologie
2. Urban Renewal Flannel Ruffle Shirt | $48 at Urban Outfitters

3. Warehouse Ladder Stitch Snood | $30.33 at ASOS
4. Mango Silk Paisley Caftan Dress | $143.06 at ASOS
5. Matt Frame Retro Geeky Sunglasses | $16.85 at ASOS

6. Fringe Biker Jacket by Boutique | $370 at Topshop
7. Marled Shawl Collar Cardigan | $128 at J Crew
What will you be wearing this month? Share your style with us in the comments!

3 comments September 30th, 2010