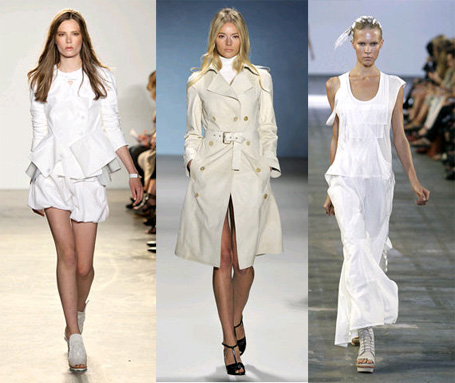 Photo Credit:
Style.com
The Purity of White at Thakoon, Derek Lam, and Alexander Wang.

Style tip? It seems apropos that we start off our Spring/Summer 2011 fashion trend coverage with a theme so pure. White is clean, it's fresh, and it's a new palette from which to create. And it's clearly in line with Fall's neutral, sand based palette. Indeed, it seems that white is the new beige! How to wear white? We love wearing different shades of white and off-white together, mixing tones and textures. A gauzy knit sweater, for example, contrasting against a crisp pair of knee length shorts, crease line intact. As for accessories, you can go with anything you want - metallics look especially fetching, but if you want to add a spot of color, brights or pastels work equally well.

What do you think? How would you wear white? Share your thoughts in the comments!
1 comment September 13th, 2010