September 19th, 2010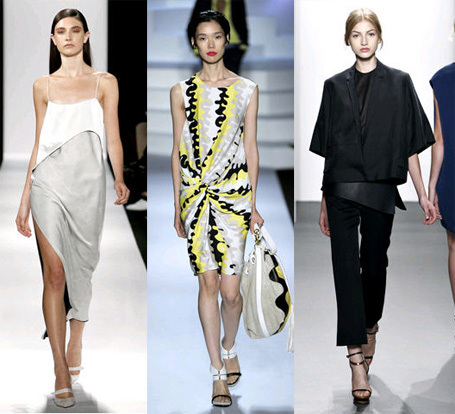 Photo Credit:
Style.com
Architectural Construction at Narciso Rodriguez, Diane von Furstenberg, and Calvin Klein.

Style tip? What do the Venice Bienniale and New York Fashion Week have in common? A focus on architecture. Fashion Week's silhouettes were decidedly architecturally inspired, with neat, precisely cut drapes and folds. We were especially taken with the organic shapes at Narciso Rodriguez and the careful origami-like precision at fellow minimalist Calvin Klein. But this architectural construction extends past the minimalists - even Diane von Furstenberg featured precisely draped knots on her exuberantly printed dresses. Let these architectural beauties stand alone as the focus of your outfit; our favorite way to wear them is to let them shine with shoes and accessories that focus the eye on the construction itself.

What do you think? How would you wear architectural construction? Share your thoughts in the comments!
Entry Filed under: Runway Reviews,Runway Reviews,Trend,Trend Predictives,Trendscape,Trendscape,What's In and What's Out,Women