September 20th, 2010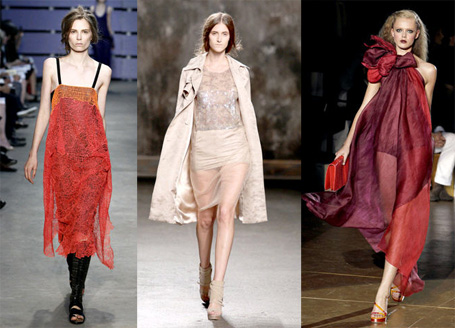 Photo Credit:
Style.com
Sheer Textures at Proenza Schouler, Doo Ri, and Marc Jacobs.

Style tip? Texture as a design element can be extremely powerful. Especially in a season characterized by neutrals and monochromatic looks, mixing textures and weights of fabric is key to keeping fashion visually interesting. Sheer fabrics made a stunning appearance on the runway, in both matte and shiny forms. We appreciated the diaphanous nature of Marc Jacobs' ombre burgundy dress - especially how it fluttered as the model took the runway. Lacy textures struck gold at Proenza Schouler, while the look at Doo Ri was decidedly ladylike. Mix things up with your sheers - the look of sheers layered with solids, especially in monochromatic forms, will be right on trend for Spring 2011.

What do you think? How would you wear sheer textures? Share your thoughts in the comments!
Entry Filed under: Runway Reviews,Runway Reviews,Trend,Trend Predictives,Trendscape,Trendscape,What's In and What's Out,Women