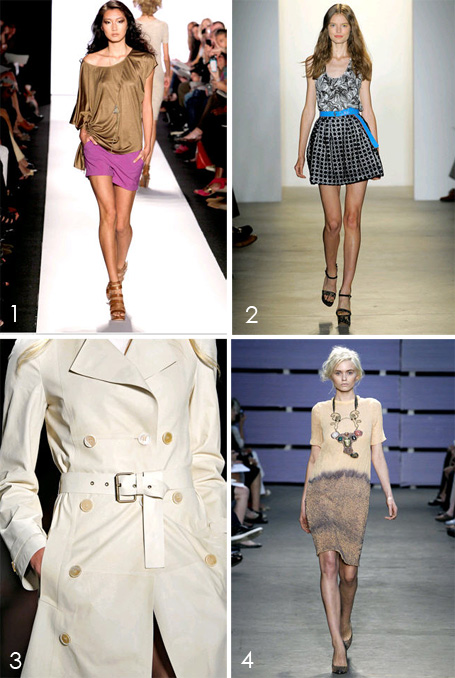 Photo Credit: Style.com
1. Transform neutrals from staid to stunning with a splash of color, as at Ports 1961.
For the second season in a row, neutrals were the big color story. But how do you keep your look interesting when your closet is full of beiges and greys? Add a pop of color. Brights look especially fresh against this neutral palette. If you want to go easy, try a shoe or handbag in an eye popping color. But if you want to up your style game a bit more, go bold and try a brightly colored pair of shorts or a skirt. Just remember to pair warm neutrals with other warm hues, and colder neutrals with other colder hues.
2. How to mix and match prints? Do as Peter Som does and try wildly different prints in the same color combination.
We've said time and time again that the secret to mixing and matching prints is to keep one element between the prints the same - be it the type of pattern (e.g. stripes with stripes, checks with checks) or the size of the repeat (e.g. small with small, large with large). But these two design details aren't the only ones you can vary. Do as Peter Som did and keep the color combination of the print the same - and you can vary both the pattern type and the size of the repeat. Pretty snazzy.
3. Long belt? Follow Derek Lam's lead and fold it over, boyfriend belt style.
The Boyfriend Belt, so named because it's uber-long, as your boyfriend's belt would be, made a stunning appearance on the style set for Spring/Summer 2010. If the runways of Spring/Summer 2011 are any indication, these boyfriend belts will still look posh next year. How to get the style right? Choose a belt that's extra long in length, buckle it as usual, and then fold the end down under the belt and up and over, tucking the fold into the pocket created by the first fold.
4. Rock out with a statement necklace, taking inspiration from Proenza Schouler.
The statement necklace is here to stay for another season. Pendants, chains, bows, and other embellishments make these necklaces stand out. They're a great conversation piece - and can add a bit of spice to an otherwise plain outfit. We love wearing statement necklaces with basics - a blazer, tee and skinny jeans look rather plain by themselves, but when you add a statement necklace, the look feels much more pulled together. But you don't have to keep your look plain to pull off a statement necklace. Just make sure your top is plain to provide a blank canvas for these necklaces to shine.

2 comments September 24th, 2010