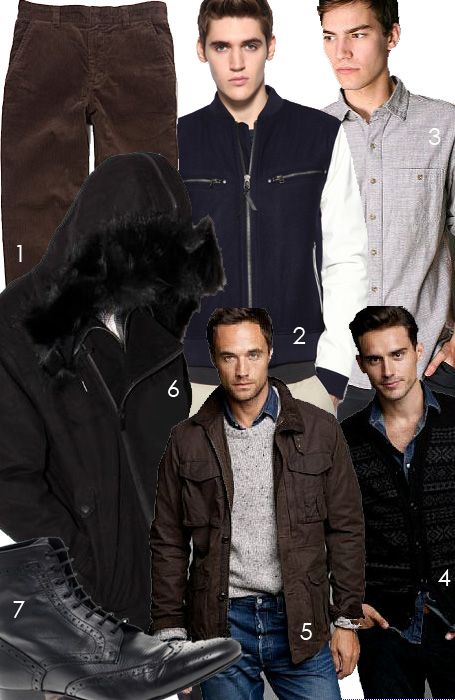 In this fine month of September (though in all fairness, we're a hair away from October), we doubled down on key pieces for Fall - particularly in outerwear. We found the perfect layering parka, the All-American bomber jacket, the military inspired but not militant field jacket. Filling out the rest of your Fall wardrobe, we have a fair isle cardigan (perfect for layering over your chambray shirts), a beautiful brown pair of cords, and the key boot for fall - the brogue boot. Here's what you need to add to your wardrobe this month and beyond:
1. Fall Cord Martin Pants | $168 at Steven Alan
2. Levi's College Bomber Jacket | $202.20 at ASOS
3. Salt Valley Chambray Roll Up Shirt | $48 at Urban Outfitters
4. Fine Lambswool Fair Isle Cardigan | $88 at J Crew
5. British Millerain Oilcloth Field Jacket | $198 at J Crew
6. Kai-Aakmann Black Lined Hooded Parka | $428 at Oak
7. Leather Brogue Boot | $109.53 at ASOS

What will you be wearing this month? Share your style with us in the comments!
3 comments September 29th, 2010