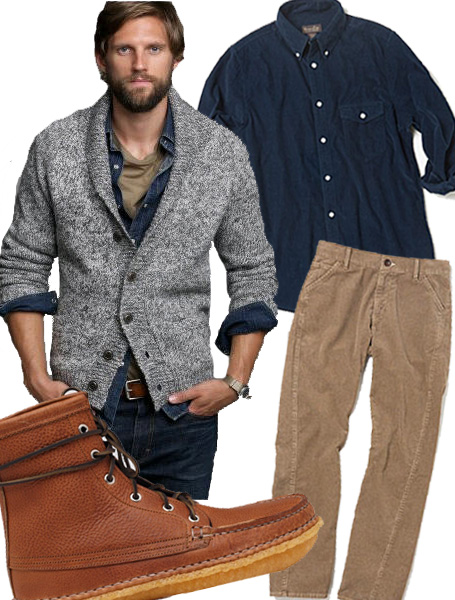 Over the last few years, the shawl collar cardigan (aka the grandpa cardigan) has become a cold weather men's wardrobe staple. The marled shawl collar cardigan evokes memories of your grandpa's favorite oversized sweater - the one he always wore to family dinner. Today's grandpa cardigans are similarly cozy, but they're cut closer to the body for a more form fitting shape. We love pairing the knobby, textured cardigan with other distinctive textures - a rough denim or a velvety corduroy would do the trick. Finish off the outfit with a rough and ready boot for a look that's casually rugged.
Here's how to get the look:
Alpaca Shawl Collar Cardigan | $118 at J Crew
Steven Alan for Dockers Collegiate Collar Shirt | $148 at Steven Alan
Steven Alan for Dockers Modern 5 Pocket | $128 at Steven Alan
Quoddy Grizzly Boot | $395 at Need Supply
How would you wear the shawl collar cardigan? Share your style with us in the comments!
Add comment October 13th, 2010