Q: What advice do you have about choosing an engagement ring?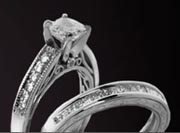 A: There are many ways to make your engagement ring selection process a pleasurable experience with a great outcome. From Abazias Diamonds, here's four ways to make the engagement ring selection process a successful one:
(1) Take notice as to what jewelry she already wears or the jewelry pieces she gravitates towards when window-shopping.
(2) Enlist the help of her family and friends (only those who can keep a secret), to gather information or share what they already know about her jewelry tastes.
(3) Consider her lifestyle and personality type when selecting a ring style and diamond size.
(4) But above all, remember that the ring itself represents your commitment and love, no matter what the style or size.
Abazias Diamonds is a worldwide leader in the sale of loose diamonds, engagement rings, and diamond jewelry. Not only does Abazias boast one of the largest databases of diamonds, engagement rings, and diamond jewelry in the industry today, Abazias also is one of the only discount diamonds and diamond jewelry dealers to exist as a public company. Advancements in technology, coupled with a modern and sleek design, have allowed Abazias to add to its website a Diamond and Jewelry Personal Shopper, 3D Engagement Ring Builder and an expansive Education Section. With the unity of a site truly designed with the consumer in mind and the guarantee of superior customer service, each and every experience with Abazias Diamonds is personal and pleasurable one.



Want to be seen on Omiru: Style for All? E-mail advertising at omiru dot com.
1 comment May 8th, 2007