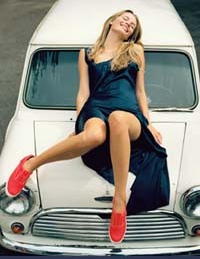 Five
years ago, could you have imagined that someone as cool as Mischa
Barton would be endorsing Keds shoes? I sure couldn't. At best, the
shoe line was synonymous with your grandmother or worse yet, your
completely un-hip third cousin from Oregon.
What's more, I
could have never imagined then, when Keds was still "un-cool," that I
would one day consider purchasing them… for MYSELF. Yet now, every time
I see one of those advertisements with Mischa in her stylish short
skirts and vintage tees, I want to race to the mall (and I don't know
to which store because I don't even know where they sell Keds) to get
me a pair fast. And when I'm staring at one of the amusing slogans like
"Cool Is Knowing Who You are," I don't want to trap the shoes in my
closet like I would have 5 years ago. I want to sport them as soon as
possible so as to show the world that I'm on top of the ball.

If you're still not convinced that Keds is "cool," wait 'til you hear
which other famous designers have contributed to the 90-year old
business? BCBG Max Azria, the designer who makes très beautiful
frocks, has contributed to Keds with a funky zebra-like pattern, as has
Chilean fashion designer Zero Maria Cornejo with a lurex linen skimmer.
Of course, the concept of celebrity endorsements is nothing
new. Sarah Jessica Parker appeared in ads for Gap. Nicole Ritchie
showed up in Bongo ads with then-fiance DJ AM. Gwyneth Paltrow has been
the face of Estee Lauder Pleasures. And how can we forget those
powerful Versace ads with Mama Madonna sitting behind a clear desk with
platinum blonde hair?
Do you buy it–literally? Do
celebrity endorsers entice you to purchase that shoe or handbag? Or do
they have the opposite effect on you? How much does fit matter between
the celebrity endorser and the product? Do you now associate
Keds with cool?
Go on, speak up: Let us know your thoughts by posting a quick comment or voting on our handy-dandy poll.
8 comments March 13th, 2006