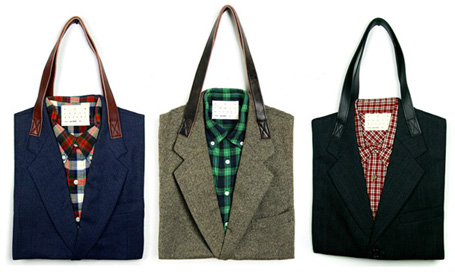 Poketo Suit Totes
Who says that art isn't wearable? LA-based design studio Poketo is bringing art into the everyday with innovative, limited-edition accessories and lifestyle goods, like the recycled suit totes pictured above. Find out more about how Poketo was founded (including the story behind the brand's name), what's up next for Poketo, and how founders Ted Vadakan and Angie Myung kick back in their free time.
Describe Poketo, Twitter style.
Poketo is an LA-based design studio that creates limited edition artist-lifestyle goods based on the idea of "art for your everyday."
When was Poketo founded?
Poketo was founded by us, Ted Vadakan and Angie Myung, in 2003.
What's the story behind the launch?
As a part of the San Francisco art community I (Ted) was a filmmaker and Angie, was a graphic designer. We were always curating shows for artist friends. The shows were a lot of fun and brought tons of people together. But we noticed a problem. No one could afford to buy the art displayed. For this reason, we came up with an affordable solution to satisfy everyone's art lust. Poketo, pronounced "poh-keh-toe" got its name through Angie's grandmother's mispronunciation of the word, "pocket." And the name stuck. We created limited-edition artist wallets that were accessible and well designed so that no one would be without a piece of art of their own. Wallets were the perfect items to make. Not only were they extremely functional, but they were carried around and exposed to the public everyday. Having a Poketo wallet was like having a traveling art show with you at all times, and it still is today. The first run of wallets were very successful and sold out immediately. So Poketo made more and more. Each time discovering new artists and creating new products until Poketo evolved into what it is today, an innovator in artist-designed lifestyle wares.
Since our company was founded in 2003, Poketo has had the most amazing opportunities, collaborating with not only international artists, but also with companies like Nike, and major art institutions including the SF MoMA and De Young Museum. We've also had the rewarding experience of working with musicians that we've been loyal fans of including Arcade Fire, The Shins, Weezer, The Postal Service, and the Coachella Music Festival, as well as as a benefit fundraiser for non-profit institutions as 826LA and 826 National, founded by the writer Dave Eggers. Everyone who appreciates beautiful art should have the right to incorporate it into their lives through affordable design. With this conviction, Poketo is continuously invigorated to develop ways of making art accessible to all!

Complete the following sentences:
Spring 2010 fashion is about…
Having fun! Vibrant colors! Sunshine! Being green!
Fall 2010 fashion is about…
Being cozy and warm, experimental, being green!
Where can Omiru readers buy Poketo?
Visit our online store at www.poketo.com.

Fun Fact about Poketo?
We do a mean Karaoke set and are huge foodies!

Last words?
Around Earth Day in April, be on the look out for our newest line of 100% recycled line of bags made from street banners, used leather jackets, couches, and donated clothing! As the need for 'green' becomes a long-lasting trend in everyday living, Poketo is doing its part with these one-of-a-kind artist-designed bags where proceeds go back into the community towards environmental protection, and aiding those in need both domestically and abroad.
We are super stoked to have repurposed something that is both high in quality and part of a larger social mission to make the world a greener, friendlier place to live.

3 comments March 19th, 2010