On the day of her 18th birthday, Erika Peña moved from her homeland of Puerto Rico to New York City to begin a new life as a designer. Studying with the best and the brightest at Parsons School of Design, Erika worked with designer labels Donna Karan and Josie Natori. With her strong industry experience, Erika's fashion-forward journey has been a successful one, filled with charm necklaces, chandelier earrings, and celebrity clients. Erika shared with Omiru how her Latin roots have influenced her work, how she earned her celebrity clientele, and where you can pick up one of her designs for yourself.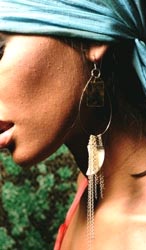 Omiru: How has your Latin heritage influenced your work?
Erika: My Catholic upbringing, in particular, has influenced my work very much. I'm inspired by my move from Puerto Rico to New York. I try to convey this experience through my jewelry, which is a bit rough and edgy, like New York, and a bit light and airy like the Caribbean.
O: What makes your jewelry line unique?
E: It's spiritual.
O: Which of your pieces do you personally love to wear?

E: My mini Ala earrings make me feel special, and I always get compliments wearing them. They are gold vermeil chains stranded with beads on oval wire frame, available in turquoise, red, white beads with 14K gold filled beads and sterling silver chains.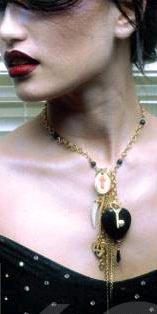 O: How long does it take to make one piece of jewelry in your line?
E: Sometimes ten minutes. Other times, up to four hours—it depends on the piece.
O: Do you ever experience designer's block?
E: Yes, I do get designer's block from time to time. It's funny, but I actually design best in airplanes.
O: Do you have a team of people working with you?
E: Yes, they've been with me since the beginning. And my sister, Bielka Peña-Bevillar, has a strong financial background, so she has helped me out on that part of the business. With my designer background and her business background, we are building our clientele and expanding the Erika Peña empire!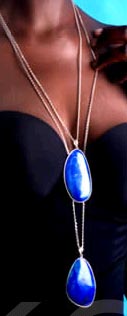 O: Jennifer Aniston, Beyonce, and Paris Hilton all wear your jewelry. How did that happen?
E: Because we are sold in over 300 boutiques around the globe, celebrities have been exposed to the brand. The boutiques have also been supportive and usually call me when an important celebrity buys a piece. Paris Hilton, Brooke Shields, Paulina Rubio, Jessica Alba, Beyonce, Ashlee Simpson, Fergie and Jennifer Aniston all have worn my pieces. I have also custom-designed jewelry for celebrities. My goal is for those who wear her jewelry to feel good, and to have a sense of good self.

O: What's the price point of your collection?
E: My lower end line starts at $60 and goes up to $1200 for the designer line. I want to reach every woman and for everyone to be able to experience the Erika Peña brand.
O: Will you branch out into other accessories?
E: I already have handbags—I love them, you'll see!
O: Where can we purchase your designs?
E: At my website, Bloomingdales, Harvey Nichols, and Epoca the Shop.
Want to see Erika's latest collection? Check out her website at www.erikapeña.com.


1 comment February 22nd, 2007