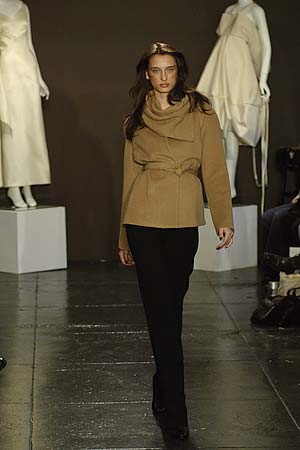 Photo Credit: NY Metro
Key Takeaways: Consistent with designer Yeohlee Teng's philosophy of dressing, this show was all about simplicty of color (basics neutrals, plus white and black), pared-down style (buttonless jackets and fuss-free wraps) and versatile textures (wool and silk).
Color Palette: A range of browns, plus black, cream and (surprisingly enough for fall) bright white.
Silhouettes: A high-waisted skirt held up by suspenders, jackets tied at the waist, 3/4 length wool coats, shawls and neck warmers.
Accessories Report: Long, loosely-worn skinny ties; shawls to be wrapped around the neck and shoulders; bare eyes and tawny cheeks; absolutely no jewelry.
What's Wearable: An exquisite-looking camel-colored cowl-neck wool coat.
What's Not Wearable: A white shirt, black pants, black tie, full-length black-and-white cape and slicked-back hair felt a bit too Dracula for us.

February 11th, 2006