Q: I'm in a fashion plateau. I'm a college sophomore looking to expand my wardrobe. I find myself wearing a solid colored polo, cargo shorts and a pair of vans slip-ons or low athletic style sneakers every day. I would really like to try and diversify my wardrobe without ditching my polos. I want a more mature look but still a bit preppy.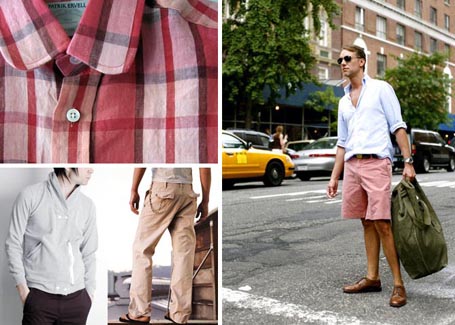 Clockwise from top left: Patrik Ervell Linen Pink Check Buttondown ($264 at South Willard), Michael Bastian photo from The Sartorialist, Save Khaki Pants from GQ, Cardigan Sweatshirt ($157 at Oak).
A: You're in luck–you don't need to spend a lot in order to look more mature. In fact, you can often replicate a designer look at generic prices. To me, the spirit of "young but mature" rests in taking staples of a man's wardrobe and putting a contemporary twist on them. The most common outfit you will see that captures this spirit is the classic t-shirt under the blazer look. You may also see some guys pushing up the sleeves on blazers. As for your specific question…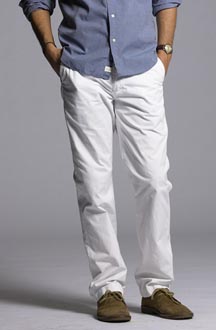 Pants: Ditch the cargo pants. Those bulky pockets are just a bit too high school. Instead, try some well-cut khakis in a lighter color. They're worth the investment. I would look into a designer called Save Khaki; I like their cut and casualness. If you're in New York, you can go to their boutique; otherwise you can find them at online at Barney's Co-op, Neiman Marcus or Bergdorf Goodman. And if its prep you want, look no further than a pair of Nantucket Reds; these classics are the very definition of East coast prep. You can also try Ralph Lauren or J. Crew, which always has some good chinos (and of course, their classic chambray shirt). Or, if you want something new, you can explore Gant's Rugger line. And while we're on the subject of pants, don't be afraid to try jeans that aren't blue. Grey jeans look great.


Shorts: For those hot days, look into some clean cut Bermuda shorts; they're like cargo pants without the bulky pockets. Nantucket Reds can be pretty stylish, as seen on Michael Bastian (pictured top right). Also check out what Banana Republic has to offer. Style tip? Properly fitting shorts do not fall below the knee.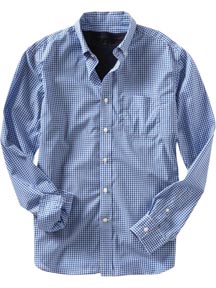 Tops: You can stick to polo shirts, but I have a feeling that if you look around, every 3rd guy will be sporting a polo. How to differentiate yourself from these other guys? Look for polos that deviate from the common styles and brands. Try investing in some interesting buttondowns; they'll come in handy for dates too. Solids and stripes are always a safe bet, but if you feel like being bold, try some checks or plaid. Whatever you do, leave the collar down; a polo with a popped color isn't preppy, it's pretentious.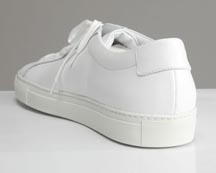 Shoes: Don't bash yourself too hard about wearing slip on Vans; they're actually coming back in style. Also, classics such as Jack Purcells probably won't go out of style any time soon, so don't worry about wearing sneakers every now and then. You can find some alternatively preppy shoes without breaking the bank though: try some Sperry Top-Sider or L.L. Bean boat shoes.
Blazers/Suits: Also, now that you're in college, it's time to look into blazers and possibly a suit if you don't have one. You'll definitely need a well-cut suit for your job interview, so it's only a matter of time. For about $500, you can get some pretty good suits at Banana Republic.
Regardless of what you buy, please make sure that whatever clothes you do buy actually fit you properly. Bagginess is for kids, not a mature guy like you.

Have a great tip about building a preppy casual wardrobe? Share it with us in the comments!

Pictured: Classic Fit Lightweight Chino | $69.50 at J. Crew, Nantucket Red Shorts | $52.50 at Nantucket Reds, Fitted Gingham Checked Shirt | $39.50 at Gap, and Common Projects Achilles Low Top Sneaker | $295 at Jake.
4 comments May 7th, 2008