Q: I've been reading your site forever and have come to a conclusion: My wardrobe is BORING. I thought I was going for the "classic" look but I dress like a banker… and I'm not! I have a lot of plain slacks that I pair with plain "safe" sweaters. (The husband and I went dancing last night and I wore pinstripe slacks and a white sweater- yawn!) What can I do to jazz me up a bit? I'd like to look a bit more flirty and feminine.

A: Here's three easy ways to add some pizazz to your wardrobe and look more flirty and feminine:
Get Creative with Layering by Mixing Casual and Formal Pieces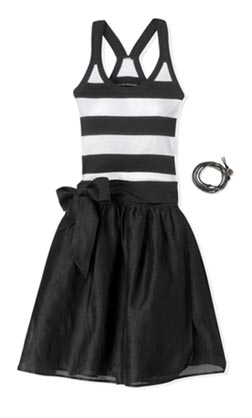 You don't have to pair casual tops with casual bottoms and formal tops with formal bottoms. Part of the fun of creating an outfit is mixing and matching items that are casual and formal–and for that matter, cheap chic with more expensive pieces.
Take, for example, this casual black and white racerback knit top, whose All-American style would pair perfectly with a pair of dark blue jeans. Nix the jeans, and instead pair it with a gorgeously elegant black skirt. I love how the formality of the skirt elevates the look of the simple black and white striped top.

Play with Color

The easiest way to add more pizazz to your plain tops and bottoms is to inject a shot of color into your wardrobe. How do you do this? (1) Figure out what colors look the best on you. (You can do this in an afternoon at the mall by trying on lots of different colors and taking note of which ones make you look radiant–and which ones make you look washed out.) (2) Expand your wardrobe to include the colors that look great on you.
You don't have to buy a bunch of color all at once. Building a wardrobe is like breaking in a new pair of heels–it's best done in small steps. Add a few pieces a season, and your wardrobe will evolve with your ever changing sense of personal style.
If you're hesitant about large splashes of color, you can try out color by layering it under more neutral colors, as seen in the outfit at right.
Anchor your Wardrobe with Statement Pieces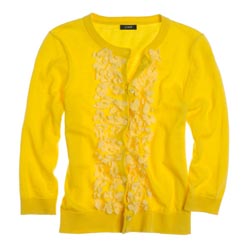 Statement pieces are, by definition, meant to turn heads. Maybe it's your favorite slinky sweater, maybe it's the dress that fits you to a T, maybe it's your goes-with-everything satchel bag. These are the pieces that you can always count on to anchor an outfit. You only need a few of these statement pieces in your closet to start, but you can also never have enough of them.
For your classic style, try classics-with-a-twist. Instead of the plain white sweater, try one in bright yellow (which would be lovely with your menswear slacks). Or instead of plain flat-front pants, try a pair of navy blue sailor pants (which would look great with your white sweaters).
Pictured: Outfits from Club Monaco Collection and Cotton Cashmere Primrose Cardigan | $98 at J Crew.

Have a great tip about adding pizazz to a classic wardrobe? Share it with us in the comments!
8 comments May 20th, 2008