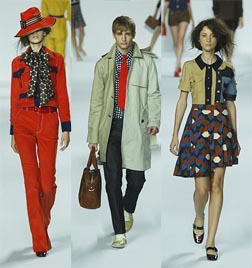 Photo Credit:
NY Magazine

Key Takeaways: While Marc Jacobs' namesake collection was all about theatrics, his Marc by Marc Jacobs collection provided much more wearable looks. Of note was the often-subtle asymmetry seen in the collection–perhaps one shirt panel done in a different fabric, or having a rounded corner hem on one jacket side and a square corner hem on the other. Key trends included: the high waistline, colorblocking, dots, bows, short shorts, emphasis on the waistline, and nautical influences (e.g. sailor pants, horizontal stripes, navy blue).
Color Palette: Neutrals plus navy, red, brown, and olive yellow.
Silhouettes: For women, the most important trends were: emphasis on the (high) waistline, boxy dresses and jackets, the cropped jacket, skirts that fall at mid-thigh,and skinny pants. Key detailing included oversized pockets and the v-strap neckline. For men, skinny pants, short shorts, and tiny collars on collared shirts.
Accessories Report: For women, belts at the waist, wide-brimmed hats, tall newsboy-style caps, shoulder strap handbags, the clutch…and luggage. The Marc by Marc Jacobs woman is a jet-setter. For men, too-short ties, medium width ties, sport sneakers, and aviator sunglasses (hung in the pocket, not worn).
What's Wearable: Silhouettes, minus the short shorts and skinny pants, were generally wearable–though the subtle asymmetry of the garments is harder to pull off. Our favorite wearable look for women was a silk tie-neck polka-dotted blouse paired with a high-waisted navy skirt fashioned to emulate sailor pants. On the men, we loved the 70s inspired safari coat.

What's Not Wearable: If you're uncomfortable with the untraditional, skip this collection.
Previous Marc Jacobs Fashion Week Coverage from Omiru:
Fall 2007 Fashion Week Runway Review: Marc Jacobs
Spring 2007 Fashion Week Runway Review: Marc by Marc Jacobs
Spring 2007 Fashion Week Runway Review: Marc Jacobs
Fall 2006 Fashion Week Runway Review: Marc by Marc Jacobs
Fall 2006 Fashion Week Runway Review: Marc Jacobs
Spring 2006 Fashion Week Runway Review: Marc by Marc Jacobs
Spring 2006 Fashion Week Runway Review: Marc Jacobs
2 comments September 12th, 2007