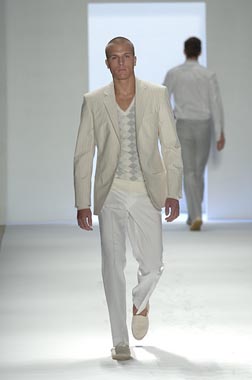 Photo Credit:
Coutorture

Key Takeaways: Simple, clean, and classy. A nice range of casual comfort and handsome formality that epitomizes Perry. The garments are airy and invoke a cloud-like attitude. In other words, if there was a fashion show for all the male angels in heaven, this would be it.
Color Palette: Light and breezy tans, whites and browns kiss this collection with sophistication. Modernized argyle prints and stripes also make an unassuming appearance.
Silhouettes: Fitted and tailored to a tee, with an occasional loose fit in all the right places.
Accessories Report: The collection is so clean that any type of accessory would distract from the pieces on the runway.

What's Wearable: Almost everything is ready-to-wear. For those climates that allow you to wear coats during the spring, the Perry Ellis outerwear is wonderful: the mid-length trenches, the banded collared windbreaker and best of all, the double breasted blazer.
What's Not Wearable: The see-through button down is a look that not many people can pull off, so try that on only if you are fashionably daring. The square cut trunks may be a little too revealing for American men to wear in public.

1 comment September 10th, 2006