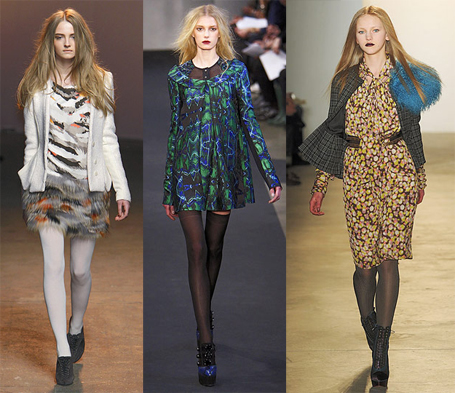 Photo Credit:
NYMag.com
Colorful Prints at Thakoon, Proenza Schouler, and Peter Som.

Style tip? Prints are the spice of fashion - the fun pieces that can breathe life into your wardrobe. The beauty of prints is that they can really change up your look, adding color and visual interest to very simple silhouettes. Case in point? Proenza Schouler's blue and green printed boatneck swing coat, which would have a very 1960s feel were it not for the electrifying print. We also took note of Thakoon's use of prints on multiple fabric types - look at how the animal print pattern on the top is echoed in the skirt. But you don't have to go too matchy-matchy with prints. Do as Peter Som does and pair two different prints in the same outfit.

What do you think? How would you wear colorful prints? Share your thoughts in the comments!
3 comments March 3rd, 2010