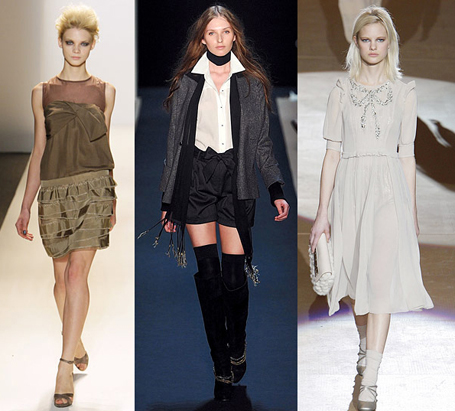 Photo Credit:
NYMag.com
Bows at Lela Rose, Charlotte Ronson, and Marc Jacobs.

Style tip? Bows may be reminiscent of childhood party dresses and adolescent headbands, but they need not be just for girls. Women can wear bows too - just in a different, and age-appropriate way. Skip the frills and the too-pretty pastels and wear bows with a bit of a twist. A few ideas? Abstract bows, as seen in the subtle bodice draping at Lela Rose. Tailored bows, as in the tight black bow finishing off a blazer, button-down shirt, and shorts at Charlotte Ronson. Last but not least, glamorous bows, like the glittering, shiny bow detail finishing off the delicate pastel dress at Marc Jacobs.

What do you think? How would you wear bows? Share your thoughts in the comments!
1 comment February 25th, 2010