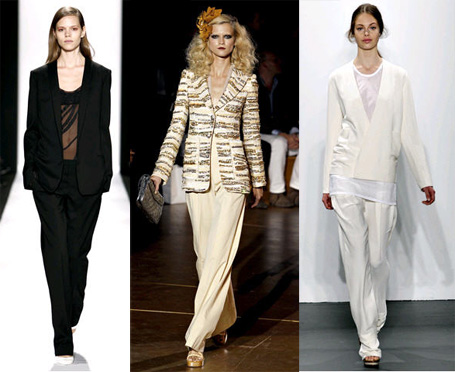 Photo Credit:
Style.com
Boyfriend Blazers at Narciso Rodriguez, Marc Jacobs, and Calvin Klein.

Style tip? The beauty of the boyfriend blazer is its laid back, carefree essence. It's cut a bit long, it's not perfectly fitted - and has that je ne sais quoi that makes it so alluring. If you don't already have one (or several), do go out and get one in a nice, neutral color - black or grey works especially well. You'll be able to pair it with everything from a skinny pair of pants to your spring dresses (belted, of course). For an extra slim look, look for one with a skinny lapel, like the Narciso Rodriguez blazer shown at left. If you already have your basic boyfriend blazers hanging in your closet, you can try one with a bit of embellishment, via color or texture.

What do you think? How would you wear the boyfriend blazer? Share your thoughts in the comments!
Add comment September 19th, 2010