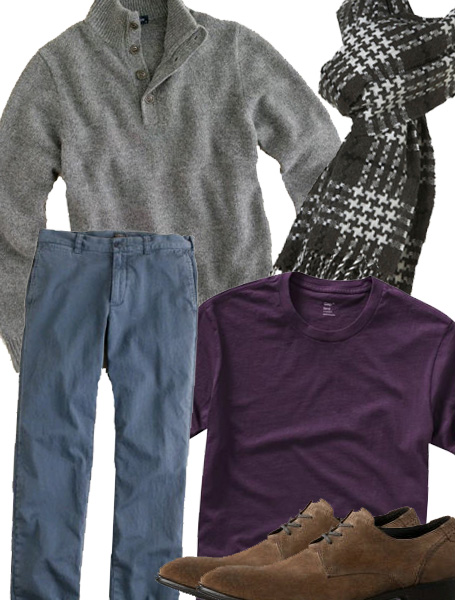 Pictured: Wool Cashmere Jersey Mockneck Sweater | $98 at J Crew, The New Crewneck | $16.50 at Gap, Sun Faded Stanton Pants in Urban Slim Fit | $69.50 at J Crew, Green Plaid Woven Scarf | $24 at Topman, and Mister Man Oxfords | $255 at Kenneth Cole.
Just because the sky is grey doesn't mean that your entire outfit need be as well. Add a bit of color to your look to make the day look just a little bit brighter. Here's how to get the look of color on a cloudy day:
1. This look is built on a foundation of color: a rich purple tee and a pair of greyed blue trouser pants.
2. Upon this foundation, we added the requisite neutrals - a heathered grey pullover sweater and a plaid scarf (for visual texture).
3. Finishing off the look is a pair of creamy brown oxfords, the perfect offset to the greyed blue of the trouser pants.
How would you wear color? Share your style with us in the comments!
5 comments November 9th, 2010